Hello there furry friends! Welcome to my first post

!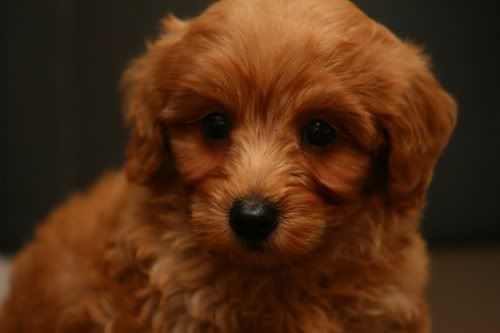 I'd like to introduce myself before this blog takes off. My name is Toby, and my birthday is on 7th July, which makes me just over 8 weeks old today. I'm 1200 grams and can't really walk too well. However i'm an intelligent puppy, and reckon i can talk better than my walk. Hence, this blog.
I was taken away from my doggy mom on the 3rd of July and sent to an ugly and smelly place where human beings were constantly staring at me through a see-through wall. My brother was there with me too. We spent our first night yelling and screaming. I miss my doggy mom.
I don't quite understand why people smile when they see me. Do they like me? I got tired of all the unnecessary attention by the end of the 2nd day in uglysmelly place.
However, on the 3rd day, Daddy and Mommy walked into the uglysmelly place. Mommy saw me first and couldn't stop smiling and see-through wall tapping. I think i was fast asleep. When i got up later my brother told me Mommy is interested in me. That's scary isn't it? I'm only 8.5 weeks old!
Before i knew it, the uglysmelly people in uniform unlocked the see-through wall and roughly picked me up. I just had a nice brown poop and wanted to sniff it; these uglysmelly people don't know any better! Anyway Mommy really liked me, and then Daddy came along. I nearly died of fright when Daddy picked me up! He's got such tall hair! And he talks funny, everytime he speaks, it's fuck this, what the fuck that.
But Daddy was gentle with me. And he smells nice too. I showed him my appreciation and licked all over his face. Daddy seemed to like it immensely. I saw Daddy and Mommy talking for awhile, and before i know, Mommy was cradling me in her bosoms, and we're on the way to their home. I cried in the cab, as i never got a chance to bid my brother goodbye. I'll miss you brother.
So it's my third day in my new home. I don't know what to think of it really. There's newspaper all over the place. And Daddy and Mommy are never around in the afternoon. And there's another doggy friend in the new home. He's 5 times my size and doesn't seem to like me really much.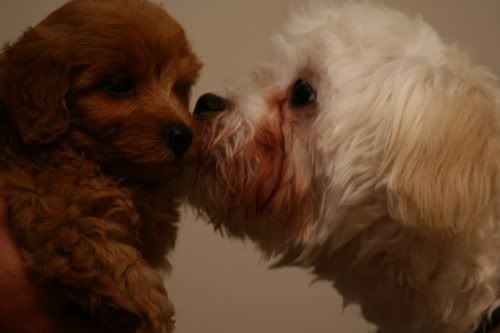 I'm hungry now. I'm gona find something to eat. The newspaper looks tasty.

Come back soon for my next story!