In Puppy News This Week...



The big white dog Bailey seems to bear a lot of resemblance to the white dragon from The Neverending Story. Daddy, Mommy and the other 2 strangers at home call him White Dragon from time to time. Why don't they have a cool name for me as well?

White Dragon likes to visit me. However, i find that the latch to my door is always firmly in place; try as i might i can never seem to unlock the latch.

So here's Bailey the White Dragon, peering into my humble abode, trying to suss me out.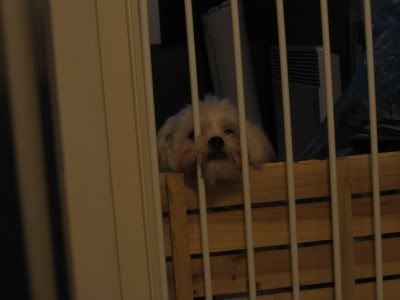 He likes sniffing and chewing on my reinforced door, which makes me happy. Because that means somebody else loves me! (or wants to bite me, if you're the eternal pessimist) So more often than not, this is how our meetings are conducted - on hindlegs.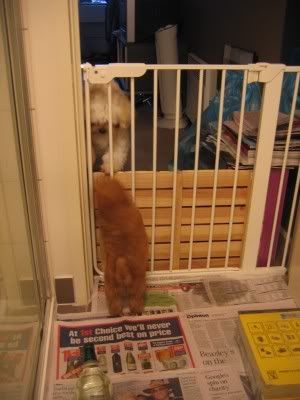 One of the stranger in the other big room loves telling me how she wished i'd be bigger sooner so i could run around the house. Now i don't know why she'll like that. Does she want me out of my comfortable room? The idea of running around like a free stallion on speed doesn't really appeal to me. I like this place really much thanks!