And the poopy goes here



So Mommy was completely grossed out by this. I wasn't too keen on showing this to the public myself. But Daddy was insistent; he reckons everyone out there - dog owners or not - should have a look at what a deworming tablet does to a young puppy. Or at least the puppy's intestines.

Yup! Daddy force-fed me a quarter piece of VitaPet's Broad Spectrum All Wormer one late evening, and went off to sleep. I don't know what happened in the next few hours, but i felt like my tummy was having a party. I wasn't the most comfortable puppy that night.

But the next morning, Daddy woke up to find this little piece of turd on the papers, proudly presented to you in THX and dead worms!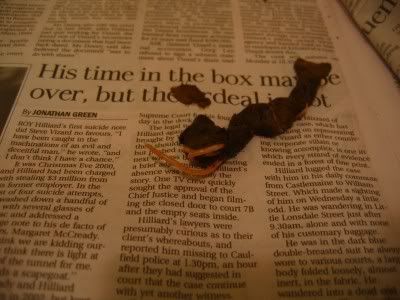 Daddy was quite stunned. In fact, he woke up without his funny looking glasses, noticed something strange about my poopy, ran to put on his glasses and grabbed his camera and dashed back to promptly keep my wormy poopy for posterity. In picture format of course.

And all this while i was yapping away in the basin, which Daddy had conveniently placed me on. Stop that Daddy! I can't have a firm footing on the wet surface!

If you're just darn curious, check out the
magnified picture of the dead worms
. Eurgh!