Getting Along



Big white Bailey and i have been playing a lot more lately. Mommy and Daddy let me out to play with the him at least once a day. I really enjoy playing with Bailey. He builds up my strength. Bailey is easily 2.5 times my size. I've to puff out my furry chest and look big. But apart from that, i have little use for him. We bite each other till he's wet with my saliva and i'm wet with his. Sometimes Bailey bites me too hard and i let out a loud yelp. Mommy and Daddy stand around the area, watching me play. Bailey's Mommy and Daddy hover around too at time.

I really don't think Bailey and i have anything in common though. He likes Sunday matinees while i prefer an action flick. He spends his free time polishing pewter and listening to Bach. I'd rather be tick and flea infested than sit through a Bach composition!
Our distaste for each other is rather apparent. We play so rough and bite so hard; we have to be seperated by both Mommies and Daddies everytime we play. We never really make it to 20 minutes, which is Daddy's preferred meet-and-greet session.

But this one time last week, Bailey and i actually got along! It was really civil. Turns out i found Bailey's chew toy. Bailey didn't know what to make of it.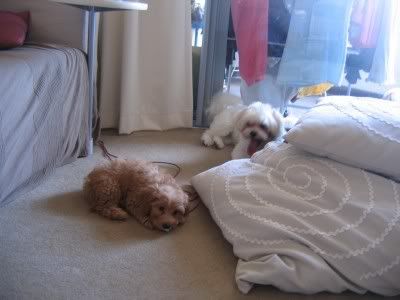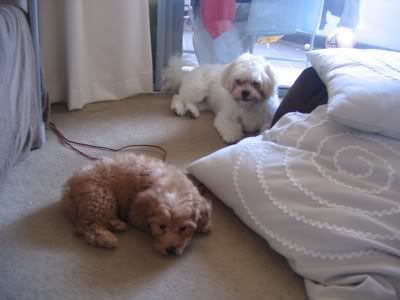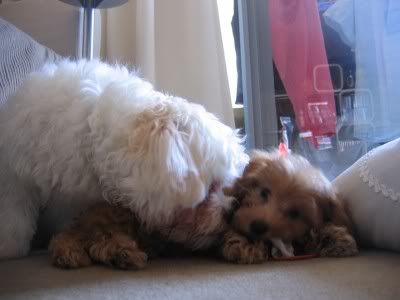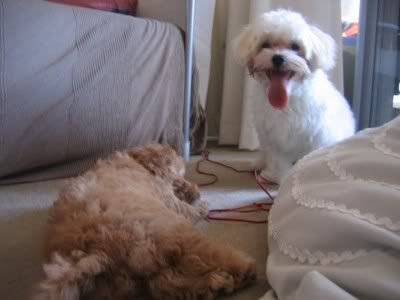 These gentle sessions are few and far between. Try as i might, i haven't been able to find Bailey's chew toy no more. Since then, all out meet-and-greet sessions have been rather violent. And each time, i'm the loser.

I hate my small furry body. Why can't i grow up big and strong tomorrow?