A new beginning



Hello again! It's been an exciting 2 weeks. I've been doing a lot of reading so my English has gotten better! Kudos to Daddy for that! He may be Asian, but his English is doggone good! Woof!

Daddy and Mommy have been busy with their lives; Daddy has been coming home late from work every night and Mommy has a new job. The schedule they've gotten me used to is now a thing of the past. These days Mommy comes home by 6pm and plays with me, while Daddy is in charge of washing me up and feeding.

When i say schedule, i mean, for the last 2 months i've been living in that big room with the toilet bowl. I already know where to go to whenever i need to relieve myelf, and my feeds and sleeping habits have been very regular.

But 3 days ago, Mommy brought me to a scary place with other doggies and animals. A large strange man inserted a needle into me while i wagging my tail and i wasn't too happy after that. It stung! But after awhile, i felt strong!

And a strange thing happened - Mommy attached a rope to me and let me onto the ground! I've never seen anything like this before! I've always been carried around, and now, i don't know what to think! I got so exicted, i ran and ran and ran and ran. And i got pooped so i fell asleep while everyone was having tea.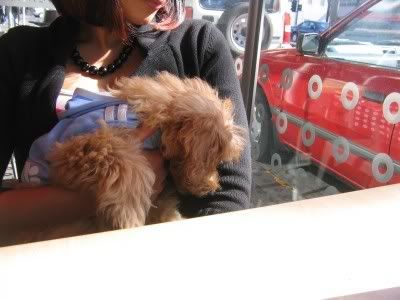 One of the first things Daddy and Mommy taught me was how to climb and descent from a flight of stairs. You see, i'm so small, climbing and descending is a real hassle.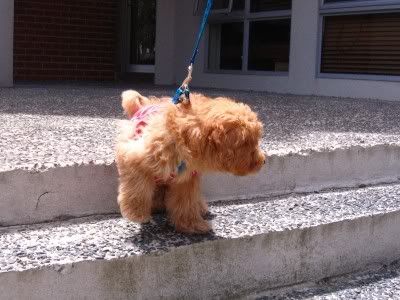 I am so scared of stairs. Why do they exist? They're taller than my legs, and it requires so much effort to attempt at them.

Well i'm off to do more studying on stairs. I suppose if i put my doggy mind to it, i'd succeed.